The Soho Hotel Refuel Bar & Restaurant: Catch Idris Elba walking around in slippers!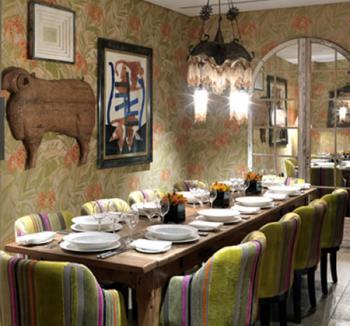 June 17th 2011
Oyebode Alaja-Browne
The Soho Hotel Refuel Bar & Restaurant: Catch Idris Elba walking around in slippers!
Every year for my birthday I'm usually treated to a meal at a plush restaurant I've never been to. Part of the excitement is dressing up and enjoying mixing with the affluent set. It therefore came as a bit of a disappointment when I was told I didn't need to dress up. I knew the person giving me the birthday treat favoured shabby chic establishments, but it did cross my mind that the credit crunch had been so damaging to her pocket, my birthday was now reduced to shabby shabby! To be fair it was still only early noon and the planned day was packed full of treats with dinner only being the icing on the cake, so I couldn't really complain that my birthday was being down sized. That evening I found myself being led into the lobby of the Soho Hotel. I had on a retro tracksuit top, jeans and trainers, all pretty shabby chic (by the way, my idea of shabby chic is an outfit that's seemingly casual but upon closer inspection reveals much thought has gone into putting that appearance together). As I walked into the restaurant, my immediate thoughts were "aaahh yeah!" and "cool!" Both said with an Australian accent, because the setting really did look cool and trendy. It was a packed house but not claustrophobic. There was a bar to the left serving cocktails and some railings splitting that area off from the restaurant. As we sat at our dinner table I surveyed the room again, I believe the restaurant designers were going for the relaxed living room look, which obviously had worked because I felt extremely relaxed.
"I like it, in fact, I like it a lot!" I said with my mock Aussie accent. The ambience was relaxed and trendy, and I was told the restaurant was a real celebrity hang-out. Only the previous week Idris Elba was spotted prancing up and down the restaurant in flip flops, obviously also feeling relaxed and at home. In fact so at home I was told he had a laptop on his dinner table. JLS were also spotted in the same week, no doubt serenading the waitresses to serve them promptly "or their hearts won't beat again!" Get it?? Never mind...Our waiter came over in a hurry and immediately presented us with two menus, the full and a la carte menu of the day. I quickly scanned the prices (needed to see what my ass was worth) and they seemed rather reasonable. Now I had recently returned from the States where good service is seemingly standard, and to my British mentality almost cringe worthy nice. So I was particularly keen to see how we Brits stacked up. Not very well I'm afraid, because our waiter seemed in a hurry and rather impatient, to the point of being rude. It didn't bother me too much mind you, because wherever he was in a hurry to go, he wasn't using my tip to get there!
I chose the pea soup of the day as a starter, marinated leg of lamb as my main and summer pudding, crème fraiche for desert. The soup was tasty, lamb filling and pudding yummy. All washed down with affordable glasses of champagne and cocktails. Our waiter wheeled out a plate of berries with white and dark chocolate, with happy birthday inscribed round the plate. He gave a flash of a smile, wished me a happy birthday and disappeared to serve another table. Nice touch, but no cigar because that didn't take much of an effort to do, so he still wasn't getting a tip from me. To be fair, I'm told service is usually good, so maybe our waiter was just having an off day.
We hung out for a bit enjoying the atmosphere which was increasingly becoming louder and swankier. When we finally got up to leave I did notice celeb faces at the bar and restaurant, not A-list mind you, but faces none the less. I walked out taking in the fresh air feeling satisfied and sure I would return. The Soho Hotel Refuel Restaurant was my kind of spot, "I liked it, I liked it a-lot!"