Hoxton Street Monster Supplies
April 14th 2015
What: Hoxton Street Monster Supplies
Where: Hoxton Market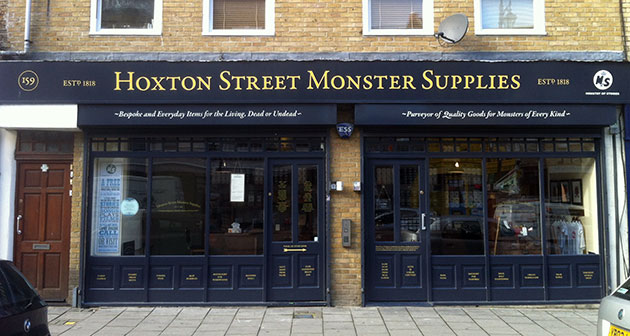 Walking back from my weekly physical exertion at the gym, pretending to play some basketball Bespokecity happened to walk past a shop with a sign that said 'Salt Made From Tears'. Cut short in my tracks, I did a double take. Upon closer inspection I saw another sign that said 'Cubed Earwax'. The sign that knocked me for six was the one 'Bespoke and Everyday Items for the Living, Dead and Undead'.
The last sign meant I definitely was not going to take a step into the store as it scared the heck out of me but it piqued my interest enough to do some research. Monster Street Supplies is a very interesting concept, the shop mainly sells edibles but some of the stuff is interestingly named – 'Organ Marmalade', 'Olde Fashioned Brain Jam', 'A Vague Sense of Unease' etc. Most interestingly, there's an exit that leads to somewhere called the Ministry of Stories.
The Ministry of Stories is just behind the Monster Supplies and is a creative writing and mentoring centre that uses storytelling to inspire kids aged 8 to 18. The centre works with volunteers to also provide one-to-one mentoring to help young people improve their communication, language skills and educational confidence.