Asa had me at Hello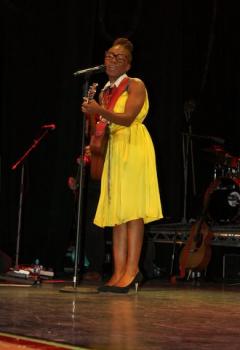 June 8th 2011
Tosin Dinah
I had never really been a massive fan of Asa even though my friends had always given her glowing reviews. But on that fateful night of June 5, she finally won me over. The Paris born Nigerian, has been hailed as 'Bob Marley for the 21st century' and 'the new Sade or Tracy Chapman', following the release of her first album (the critically acclaimed Asa). Her sound is a fusion of Yoruba with reggae, blues, jazz, funk and soul. She sings both in English and Yoruba. So, when Bellanaija.com ran a competition giving away tickets to see her live, I thought I'd take part with the hope that I'd win (I'm really not this cheap normally, I promise you) and see for myself what all the fuss was about. The venue was Indigo2, the little sister to the main arena under the O2 roof.

The concert started around 8pm, an hour behind schedule with Yolanda Brown (the saxophonist) as the opening act. She did a great job of entertaining those of us that had bravely battled the typically crappy British weather to get there on time with her rendition of Bob Marley's Africa Unite, Summertime from the musical Porgy & Bess, a couple of Yoruba Christian songs and one or two from her own repertoire. She rounded up her performance with a Fela number which really got the crowd warmed up.

After a brief interval and to a huge roar from the audience, Asa - looking elegant in a flowy, yellow silk dress, accessorised with a red beaded drop necklace and black pumps, her dreadlocks dyed deep red and styled in a tight bun atop her head, took to the stage with her guitar, said a quick hello and belted out 360degrees backed by a live band. I was hooked. She followed this with the hilarious Bimpe (off of her latest album Beautiful Imperfection), which had us all in fits of laughter as it depicts a tale of a disrespectful sister-in-law.

Crowd pleasing Jailer, Fire on the Mountain, and the bluesy/jazzy Awe were next. The way I Feel was the only blight on the night. It wasn't the best performance of the night and I felt her losing her fans at that point but she quickly redeemed herself by whipping out her trumpet for a solo. It was as beautiful as it was heart rendering. I closed my eyes and totally immersed myself in the sound; a sound reminiscent of 1940's blues music. I didn't want it to end.

One of the high points of the night for me, and there were many, was when she was joined on stage by a Ghanaian rapper for an acoustic version of No one knows (the only song of hers I have on my iPod and a personal favourite of mine). I found myself screaming and giggling like a little girl. Now, I am normally better behaved in public but I was having such an amazing night that I'd thrown all caution to the wind. And the night was far from over.

Bibanke was next. The haunting lyrics, coupled with the sublime instrumental arrangement and Asa's breathtaking, wistful vocals had the audience in a trance-like state. It was almost like we could feel her pain. Seeing every single person sing along was a sight to behold. You could tell Asa felt very proud too.

Another high point was during another funny tale Bamidele. In the middle of this song about a commitment-shy boyfriend, we were treated to a five minute dance interval by a barefooted Asa. Her moves were a delicious blend of Yoruba Bata dance, Salsa and Ballet. It was absolutely thrilling to watch. The retro number Be my man (her first single from the second album) finished off an excellent night that left us all gasping for more.

One of the things I particularly liked about Asa's gig was the ease with which she engaged with her audience. Laughing and sharing her thoughts with them, her authenticity was undeniable. You also felt like you could be yourself around her. She exuded a certain 'come as you are' quality, which could explain why she attracted such a mixed crowd. Black, white, young, old, traditional, bohemian, street, country, you name it, they were all there.

I will definitely be seeing this highly under-rated musician perform live again. Heck, I may even splash out on a VIP ticket this time. It would be totally worth it.

- Thanks to Lolu Phillips for the photograph.